Borrowing Program Video Update –
January 14, 2021
(NEW!)
Borrowing Program
| | |
| --- | --- |
| Total Long-Term Public Borrowing: | $52.3B |
| Borrowed as of | $51.3B |
Euro Bonds $5.5B
Pound Sterling Bonds
$4.7B
U.S. Dollar Bonds $8.6B
Green Bond $1.6B
Canadian Dollar Syndicated Bonds $30.9B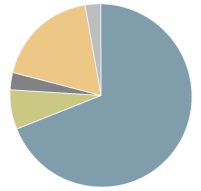 Note: Numbers may not add due to rounding.
Ontario Bonds
Secondary market liquidity with a wide range of offerings provide extensive investment and trading opportunities across the yield curve

Ontario accounted for 67.2 per cent of Canadian provincial bond trading in 2019

Attractive spreads provide opportunities for investors to achieve higher returns
Benchmark Canadian provincial borrower
Primary focus on Canadian dollar borrowing with likely issuance in U.S. dollars and Euro
Credit Ratings (Long-Term/Short-Term)
Moody's Investors Service
Aa3 / P-1
Fitch
AA- / F1+
DBRS Morningstar
AA (low) / R-1(mid)
S&P
A+ / A-1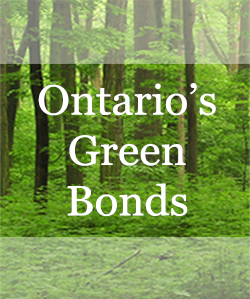 Liquidity and Short-Term Borrowing Capacity
The Province has large liquid reserve levels to withstand periods of financial market volatility, such as currently being experienced.
As of January 13, 2021, liquid reserve levels were $43.0 billion.
Average Unrestricted Liquid Reserve Levels
($ Billions)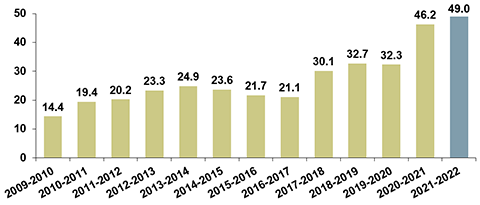 Note: 2020–21 liquid reserves are on a forecast basis to fiscal year end as of September 30, 2020.
Accessible description of chart: Average Unrestricted Liquid Reserve Levels